ALC: Our Accelerated Learning program is a fast-paced delivery of the standard national curriculum, intended to equip academically gifted and driven students with the necessary tools to tackle the complexities of advanced courses in the future stages of their education. The ALC strives to develop and refine students' critical thinking and learning abilities, cultivating a skillset focused on independent learning, examination skills and research. Our curriculum is designed to expose students to content that is half a year more advanced than the Australian Curriculum.
The class follows a sequential developmental pathway from year 1 to 10 in the three core subjects of the national curriculum: English, Mathematics, and Abstract Reasoning (year 1 – 6) or English, Mathematics and Science (Year 7 – 10).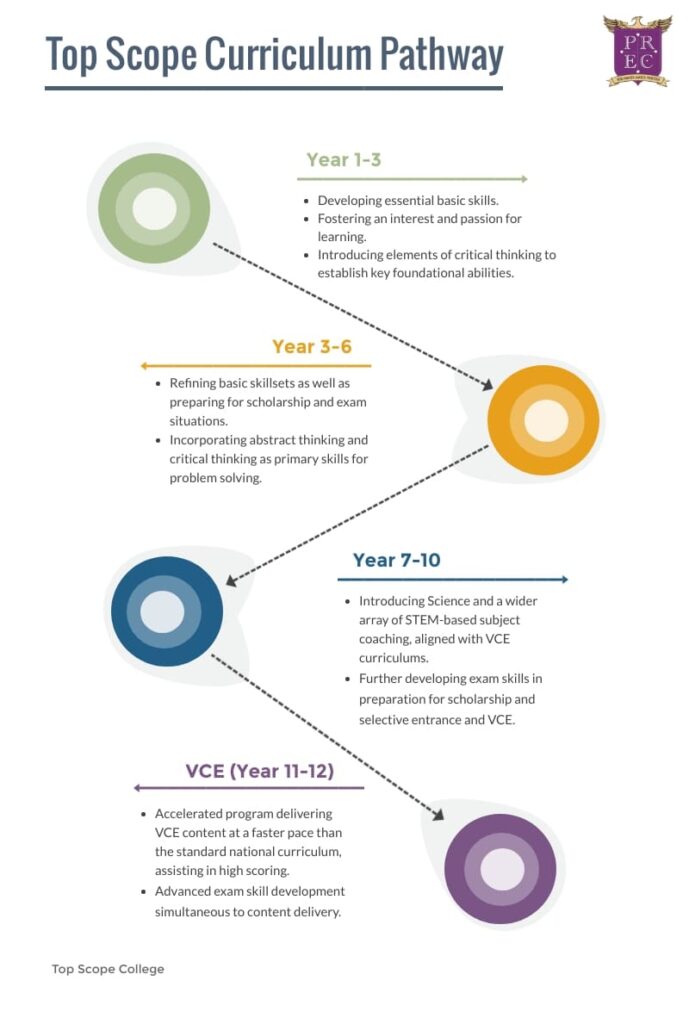 SST6: Top Scope College's Scholarship and Selective Test 6 (SST 6) class, offered to current year 5 students, is a 12-month program that aims to equip students with the essential tools and knowledge to tackle the challenges presented in these exams. Students will practice fortnightly practice exams based on Reading Comprehension, Verbal Reasoning, Humanities, and Numerical Reasoning, as well as complete engaging topics for their classwork and homework to develop their overall skills and knowledge. The aim of the SST6 program is to prepare students for Year 7 entry into government schools' SEAL program or high school entry scholarship exams.
SST8: Top Scope College's Scholarship and Selective Test 8 (SST 8) class, offered to current year 7 students, is a 12-month program that aims to equip students with the essential tools and knowledge to tackle the challenges presented in these exams. The SST8 program's selective entrance preparation focuses on the four main selective schools in Victoria (Melbourne High School / Mac. Robertson Girls' High School / Nossal High School / Suzanne Cory High School).       
STS9: Our Selective Test Science course for current Year 8 or Year 9 students is designed to prepare students for the John Monash Science School and Elizabeth Blackburn Science School entrance exams. Our STS course not only ensures students have strong test taking skills, but also provides essay writing techniques and lab report writing. Students will also cover the main concepts from years 7-9 Science and Mathematics so they can have confidence in their knowledge come test day.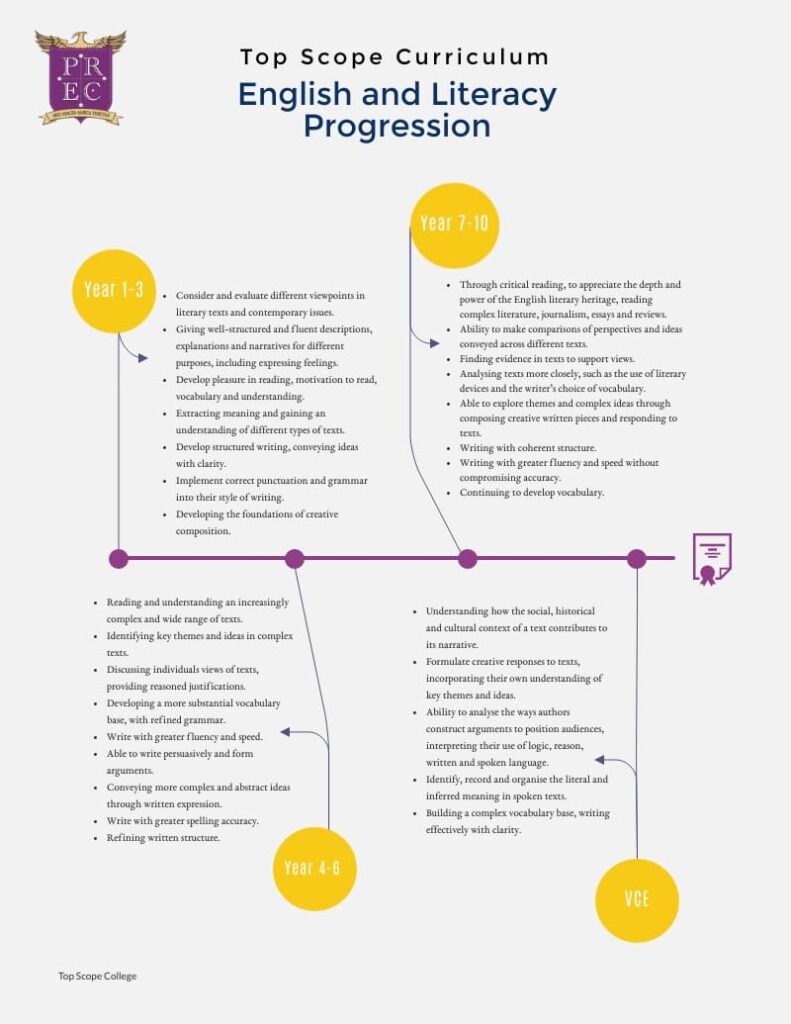 CRW: In the Classic Reading and Writing courses offered for students from Years 5-8, students will explore various text types and become confident in their application. Areas of study include narrative, exposition, persuasive, poetry, speech writing and more. They will be given the opportunity to make appropriate responses to a variety of topics based on everyday life, as well as study classic texts such as 'Phantom of the Opera', 'Wuthering Heights', 'Moby Dick', Shakespeare and more.
Junior Writing: Similarly, the Junior Writing course offered for younger students in Years 3-5 focuses on reinforcing the student's existing knowledge and improving the student's grasp of English, which will enhance the student's assessments and confidence in written and verbal communication. Each lesson, students complete engaging and fun writing tasks to practice newly learned skills in class.     
VCE/IB: Our VCE classes are taught by highly skilled teachers with significant VCE teaching experience. Groups are kept small, with a maximum of 5 students for VCE English and 10 for Mathematcial Methods, to ensure as much direct teaching and discussion time as possible. We offer the following subjects for both VCE and IB study: English/Literature, Biology, Chemistry, Physics and Mathematics. Our VCE subject classes are held at our Box Hill campus. 
Free Maths: We also offer a free Maths Help class on Wednesday/Friday nights for students currently enrolled in our SST6 and SST8 programs, which is delivered in-person also online through Zoom. This is an extra class that students are fully welcome to attend if they need extra explanation or study time.